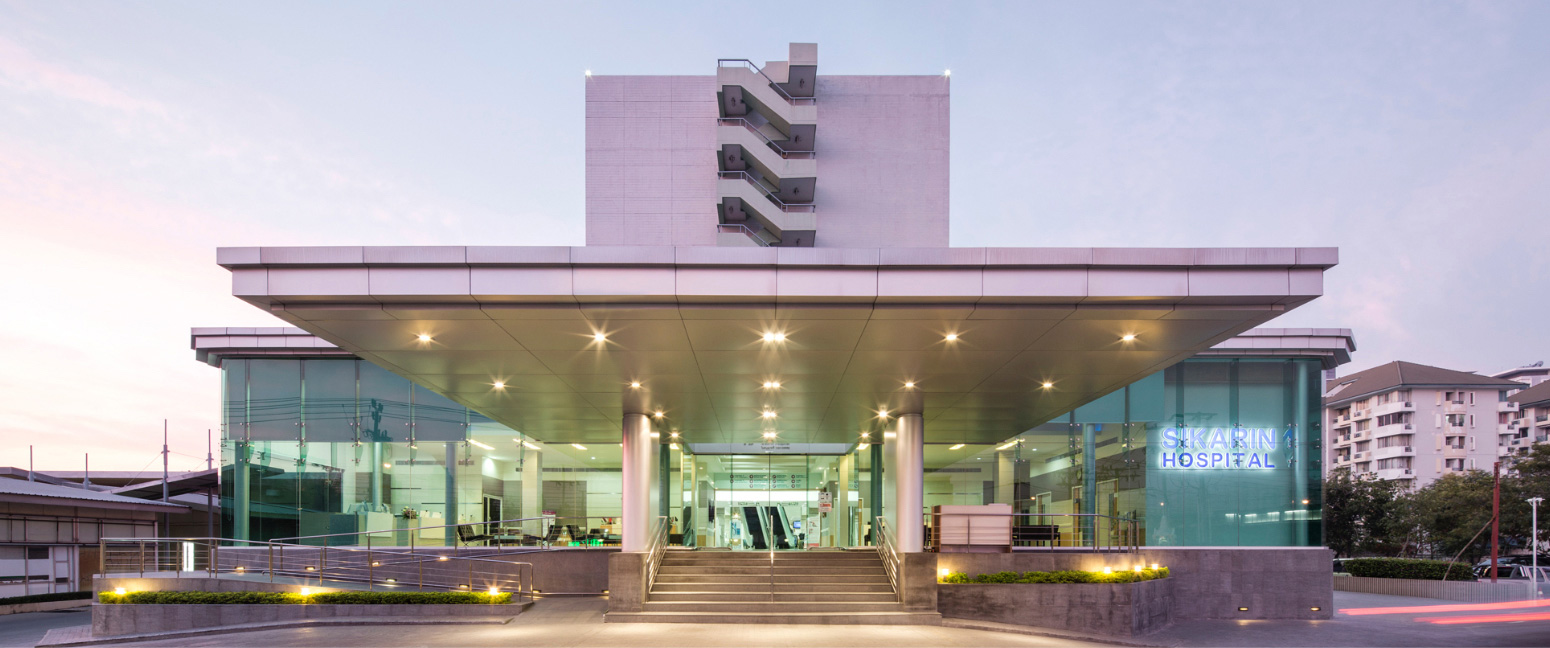 Nature of Business
Background
Sikarin Public Company Limited ("Company" or "SKR") was established on 15 March 1979, under the name of Samrong Clinical Medicine Company Limited, with the objective in operating the business of private hospital with the initial authorized capital of 16 million Baht. The hospital building was built in 1979 and the hospital operation started in 1981.Later in 1985, the company transformed and uplifted itself into a public company with the SET registration name of Sikarin Public Company Limited. At present, the Company operates the hospital business under the Company's operation as follows:
Sikarin Hospital (SBK) : is located No. 976 Lasalle Road, Bang Na Tai Sub-district, Bang Na District, Bangkok 10260, on a plot of land of 11 Rai 81 Square Wah, offcially inaugurated on 16 December 1993. The maximum number of bed are 355 bed. Currently, the hospital operate 235 beds for inpatients and with capability to handle an average of 2,800 outpatients per day.
Sikarin Samut Prakan Hospital (SSP) (old name Rattarin) : is located at No. 999/23-29, Sukhumvit Road, Bangpu Mai Sub-district, Muang District, Samut Prakan Province on a plot of land of 1 Rai and 46 Square Wah, offcially inaugurated on 1 January 1993, with 100 beds for inpatients and with capability to handle an average of 700 outpatients per day. There are currently 16 doctors and 151 medical personnel.
Sikarin Hat Yai Hospital (SHY) : is located at 169 Nipatsongkhroa 1 Road, Hat Yai Songkhla, 90110 with 10-storey building that has a total area of 35,800 square meters and a helipad for emergency case, offcially inaugurated on 10 August1997 by His Excellency General Prem Tinsulanonda, President of the Council and Statesman at the opening ceremony. The maximum number of bed are 350 bed. Currently, the hospital operate 200 beds for inpatients and with capacity of 700 outpatients per day. There are currently 43 doctors and 451 medical personnel
Sikarin Hospital is open services for patients in 4 buildings.
The total area of service provision is 58,581 square meters.
The First Building
Provides services of Diabetes and Endocrine Center, General medicine Clinic (provides services for patients with lungs, autoimmune, allergy, infectious, kidney and urologic problems), Emergency and Trauma Center, Surgery Clinic, Children's Institute Dental Center, Aesthetic Center, Laboratory Department, Diagnostic Radiology Center, CT scan Unit, Operating Rooms, Hemodialysis Unit, Physical Therapy Department with Physical Medicine and Rehabilitation Specialist, Catheter Laboratory (CATH LAB), 2 State of art Intensive Care Units, Coronary Care Unit (CCU), inpatient wards and International wards. After heart and thoracic surgery ward, medical ward – surgery, and Pediatric ward.
The Second Building
It contains the Woman's Health Center, Health Center (Check-up), Fertility Center, Delivery room, Nursery department and the inpatient wards, Obstetrics and Gynecology Ward, Medical-Surgical Ward, and Pediatric Ward.
The Third Building
The newly constructed, 14-foor building with the area of 31,344 square meters. It opened in mid-2015 to provide special medical services under the following clinics: Heart Center, Stroke Center, EENT Center (Eyes, Ear, Nose, and Throat), International Medical Center, Orthopedics Institute, Aesthetic Center, MRI Center and the best superior and suit inpatient rooms. Medical-Surgical Ward, and Pediatric Ward.
The Fourth Building
Is the social security building providing the service for the patients, special on social security in the area of 630 square meters to provide medical service for outpatient.
For all 4 Buildings, the number of rooms and beds are as follow;
| | |
| --- | --- |
| OPD | 106 rooms |
| Inpatient rooms | 258 beds |
| Emergency rooms | 10 beds |
| Cardiac Care Unit | 6 beds |
| Intensive Care Unit | 16 beds |
| Dental Unit | 12 rooms |
| Hemodialysis Unit | 14 beds |
| Operating Room | 5 rooms |
| Cath Lab | 1 room |
| Scope | 3 rooms |
Moreover, SKR also provides OPD Midnight Clinic, which is open for service until 12.00 AM consisting of 4 main clinics; medical clinic, surgery clinic, and Children's Institute and social security clinic available for 24-hour service.
Customer Satisfaction Statistics

Medical Center and Clinic
Heart Center newly open with full operating service such as Diagnosis, Coronary artery procedure, and Heart surgery since 2015.
The center provides the service on checking heart with modern devices such as EKG, Exercise Stress Test, and Echo which can observe the real-time heart function and can report the result immediately with the heart specialized doctors available for 24-hour servicing and consulting. Currently, the heart conditions can be check using MRI.
Cath Lab

This unit is can provide services for elective and emergency cases with patients who have Coronary Artery blockage which is the main cause of cardiac arrest and eventually death. It is highly sophisticated unit with newly acquired state of the art equipment and devices maned by professional technicians, nurses and highly experienced doctors 24 hours, who can perform the following procedures;
injecting color to see the blood vessels to feed the heart to diagnose the pathology of the coronary arteries such as clogged, stenosis
Put the catheter in for enlarging the coronary artery.
Put the catheter in for curing abnormal heart valve.
Cure the condition of abnormal heart beating.
Put the temporary and permanent defibrillator in.
Put the defibrillator into the patient whose heart stops beating or beats abnormally periodically.
Moreover, the Hospital set the goal of improving the quality of the treatment of ischemic myocardial infarction to meet with international treatment standards. The Hospital has received the JCI accreditation standard for acute myocardial ischemia since 2016 until the present.
Heart Surgery Room

Can operate heart and coronary artery or aneurysms in both normal and emergency conditions with a team of cardiac surgery specialists by using artificial heart and lung devices while operating with a team that has experience and high potential. Currently,it can be a center for receiving and receiving heart disease from hospitals in the social security project, namely Ladprao Hospital, Muang Samut Hospital, and is the heart-to-heart transmission center of the NHSO.
Neurology Center and Stroke Center

The hospital has developed a center for brain and neurological diseases, starting from 4 doctors and specialists in cerebrovascular and neurological diseases. Later in 2015, a tool was added to make the examination to be more accurate, including the brain function detector (EEG), nerve conduction device (EMG), CT 128 Slide and the latest MRI (Magnetic Resonance Imaging)

This center is consider to be one of the highest hospital rating amongst the big hospitals in Thailand for certification for primary stroke given by the Joint Commission International (JCI ). This certification will benefit patients who are experiencing symptoms of stroke such as numbness, weakness to limbs, facial drooping, and slurring of speech; they should be brought to the hospital and be examined urgently by the stroke team. Within this time, our stroke team can still reverse the symptoms back to normal. The stroke center is located on the 2nd floor of the Building 3.
Diabetics and Endocrine Clinic

Diabetes is the third most common disease in Sikarin Hospital. Because of this, the Hospital has to find a way to serve its client and provide them the excellent medical services that we can offer. So the hospital created a great team of doctors and nurses to develop a program for diabetes management. This program was tested, scrutinized and certified by the international inspection committee from the Joint Commission International last 28 November 2015. This program ensures that the treatment will not stop after the patient was treated in the hospital but also will ensure that there is a treatment and monitoring that will follow when they go back to their home and community. The hospital created a program which is not only efficient but also holistic and therefore it is worthy for a seal of excellence.
GI & Scope Center

The hospital has improved the GI & scope center by moving the center to the 1st level of the third building combining the outpatient (OPD) with the endoscopic rooms to provide convenience to the patients. Modern devices were then added in to the center in order for the hospital to perform diagnostic investigations and treatments which are:
Endoscopy to diagnose and find the disease in the Gastrointestinal tract.
Endoscopy to cut the tumor in the Gastrointestinal tract
Endoscopy to cure the condition of Gastrointestinal hemorrhage
Examination on the Gastrointestinal tract and small intestine by swallowing the capsule
Examination on bacteria in the Gastrointestinal tract
Examination and diagnosis on the Diseases of the respiratory system
Mini Invasive Surgery Center

Laparoscopy or mini invasive surgery is one of the latest advancement in the field of surgery. To address this trend, the hospital has created this center to provide services to people seeking this kind of surgery. It has a team of highly experienced doctors who are will verse in using the latest modern devices which can perform Laparoscopic and endoscopic procedures for gallbladder, appendix, hernia, obstetric and gynecologic problems.
Orthopedic Center

Located on the 3st floor of Building 3, Currently, the Hospital Has expanded the examination room of the Orthopedic Surgery Center to 6 rooms to accommodate the number of service recipients together with expanding the physical therapy department to support patients with bone and muscle problems. In addition, the Hospital invested in orthopedic surgical instruments such as orthopedic surgery by using the camera, Knee-hip replacement, Accidental orthopedic surgery. And the Hospital has expanded the treatment of sports injuries such as torn ligaments Including pediatric orthopedic doctors, etc.
Dental Clinic

A clinic that provides complete dental services performed by specialized and experienced dentists who assures clean, sterile, safe and excellent results free from complications. Dental services that the hospital offers are the following;
General dental care such as teeth filling, teeth removal, teeth cleaning, coating, and polishing.
Dental care for Periodontitis and gum disease such as scurvy.
Dental care for Orthodontics; service for external, internal, and transparent
Dental care for artificial teeth such as putting the removable artificial teeth, tooth cover, artificial tooth root
Dental care for curing the tooth root
Dental care for kids such as curing the milk tooth, the tooth holder
Dental care for oral surgery such as impacted tooth surgery, oral surgery, accident in the oral cavity, jaw
In 2017, the Hospital introduced Invisalign orthodontic technology from the United States. In order to serve patients who need clear, natural, more orthodontic treatment
Diagnostic Radiology Center

The Hospital has expanded the radiological examination to be more comprehensive, including changing the system from printing to digital film so that doctors can interpret the test results quickly and conveniently with more film collection. In case the patient needs the results to another doctor, its can be returned in CD format. At present, there are x-ray machines that provide the most comprehensive service in this area, including the latest CT 128 Slide and MRI machines imported in 2015, and have expanded the treatment of sports injuries such as torn tendons. Lacking Including pediatric orthopedic doctors, etc.
Health Center (Check-up)

Located on the 2nd floor on the building 2, it has one of a kind check-up process. Providing ONE STOP SERVICE, making it very fast for the staff to perform the procedures and convenient for the patient because all the needed laboratory equipment, rooms, and staff are located in one area. This center provides services for general check-up, pre-employment check-up, before insurance policy medical check-up, travel check-ups, and formulate initial findings. This center focuses on prevention of diseases and early detection of diseases which transcends to early treatment and improvement of the quality of life of our clients. This center has also food counter which can serve refreshments and healthy snacks which is served in the same area.
Laboratory

Provide blood test and all kinds of specimens for doctors to diagnose quickly with modern tools and support more than 10,000 specimen per day, including internal quality checks, standards of medical science and Development of the examination report. Doctor can see the results from the computer system directly, reducing the error of the test result more. In addition, it also provides fast blood and blood components. Both in normal and emergency situations. In 2017, the Hospital expanded service points Blood collection at 1st floor ,Building 1, by adding 5-6 blood points to support more patients and increase the speed of blood vessel delivery. Making it possible to reduce the waiting time for the blood test results faster and has expanded the treatment of sports injuries such as torn ligaments including pediatric orthopedic doctors, etc.
Eye Ear Throat Nose Center (EENT)

Senses are very important for our daily lives. It will make one feel that they are alive. Accurate diagnostic findings are a priority by the hospital's highly specialized and experienced EENT doctors. The reason why the hospital upgraded the center's set up, location, and added modern devices that would aide to achieve accurate diagnosis. Our ophthalmologists also are able to perform surgeries for the cataract, glaucoma, cornea and retina. This center is located on the 2nd floor of the Building 3.
Women's Health Center

Located on the 1st floor of Building 2, a comprehensive treatment service for women consists of a Gynecological treatment center, Pregnant mother center, Gynecological Laparoscopic Surgery Center, and the Center for Infertility (3rd Floor, Building 2). There are specialist gynecologists in all branches, especially the Fertility Center to make the infertility service more convenient.
Children Center

Open for service from 7.00 - 24.00 hrs., including after 24.00 hrs. Number of patients who are Children counted as large number of patient in the Hospital each day. This clinic is one of many clinics in which the Hospital gives priority to. The Hospital also create a specific area separated between sick children and children who come to vaccinate or come to consult other specialized doctors. The Clinic arranging the examination place to be a city of children's imagination in order to create an atmosphere for the patient to relieve the worry of seeing a doctor. the Pediatric Center Located on the 2nd floor, Building 1, in 2017, the Hospital has expanded and improved the area by increasing the number of examination rooms to 12 examination rooms, increasing the spraying room to have more privacy and also added specialized doctors for allergies and respiratory in children to provide comprehensive treatment.
Emergency and Trauma Center and Surgery Clinic

The Hospital is aware of the readiness and importance of urgent and time to take care of the patients, taking into account the safety and opportunity of patients. Therefore, the Hospital has provided doctors qualified with many experience and multidisciplinary teams to take care of patients in times of emergency. In addition, there are ambulance services, emergency pick-up patients to the hospital with the arrangement of emergency medical practitioners at the accident center - 24-hour to accommodate the emergency response. For patients with acute stroke, acute thromboembolism will be able to access the service. Diagnosis and treated by specialized doctors quickly can help reduce the rate of death and disability. The Emergency and Trauma Center got certified for the treatment of this disease equivalent to the international level (JCI - CCPC - Primary Stroke Program) in 2014. And the Hospital has re-examined in 2017, which can pass the certification as well.

For patients with coronary artery disease emergency can access to diagnose and treatment quickly. The Hospital has developed a specialized medical center to allow patients with acute coronary artery disease to receive a stent to expand the blood vessels which can help reduce the death rate of this group of patients. By passing the certification of the Heart Association of Thailand And internationally (JCI - CCPC - Acute Myocardial Infarction) in 2016 and is also a center that provides services to patients around the neighborhoods that do not have this service. In 2018, the Hospital has renovated 3 new Ambulance vehicles with modern equipment to support more specialized centers.
Aesthetic Center

This center focuses on skin treatments and beautification by cosmetic surgery done by highly specialized and experienced team of surgeons who are well known in Thailand and several parts of the world. This center is under the supervision by skilled nurses who see to it that sterility and safety is well maintained. The clinic is set up as a ONE STOP SERVICE to give convenience and privacy to the service users. This center is located on the 2nd floor on the Building 1 of the hospital.
International Medical Center

Located on the 2nd floor, Building 3, to serve foreign customers which are both living in Thailand and those traveling from abroad. By a qualified medical practitioner with a foreign language together with multi-language interpreter service to facilitate communication and treatment. In addition, there are also services to coordinate and facilitate travel to and from overseas as well. This year, there are increasing number of foreigners patients who are interested and convinced to come receive medical treatment at Sikarin Hospital.
Other Special Services

Besides medical services provided by various departments for inpatients and outpatients aforementioned, Sikarin Hospital is completed with amenities for the convenience of clients as follows;
Mobile Health Check-Up Service : In addition to health examinations in the health center in the Hospital. The Hospital also provides health examination services at the client's office directly. Customer groups consist of office buildings and factories in Bangkok and its vicinity including nearby provinces such as Chonburi and Chachoengsao Province. Off-site health examinations will focus on a large number of checks within one day which the Hospital can provide such services about 3-4 locations per day with modern inspection systems such as computer system registration and the use of the barcode system to record results. With such system, the Hospital can provide many check-up at the same with accurately.
Social Security Patient Services : Currently, there are 130,000 registered social security patients choosing Sikarin Hospital, with an average outpatient service rate of 700 people per day. After expanding the Social Security Patient Service Building, the social security patients is more comfortable including the extension of service time so that social security patients is more convenient from the original service from 08.00-20.00 hrs. to 07.00-22.00 hrs. At present, the Hospital has a quota according to the resolution of the Social Security Office, which is 150,000 people. And the quota is full every year, and currently there are more than 130,000 social security patients wanting to choose Sikarin Hospital. Therefore, The Social Security Office has increase the number of social security patients to 140,000 people to facilities the social security patients near the Hospital's neighborhoods. Moreover, the Hospital is committed to providing social security patients with the highest standards and will continue to maintain the capacity as approved by the Social Security Office. In the past year, a specialized clinic was added at the Social Security Building to make the social security patients more convenient and faster access to the service.
From improving such services, Sikarin Hospital passed an examination from the Social Security Office with a score of 98.17% from the 100% and has expanded the treatment to tertiary medical specialty until being able to treat the patients within the Hospital itself. The social security patients able to receive treatment more conveniently and quickly and being able to accept and sent social security patients from other hospitals as well.
Sikarn Restaurant and Food Court : There are three restaurants currently provided in Sikarin Hospital (Exclude the kitchen providing for the patient).
Emergency Ambulances : The modern life saving instruments that provide 24 hours' services in case of emergency.
Foreign Customer Relation : Consisting of experts in oriental languages, such as Chinese, Japanese and English, to provide hospital's information and general knowledge to foreign clients who come to receive services.
Customer Relations Service (Ward) : Service that available at every ward to communicate with inpatient's relatives or friends. Through this service, clients can communicate or offer suggestions to the hospital more efficiently.
Aseptic medical department (CSSD) : In 2017, the Hospital has improved the CSSD department to be more spacious and accurate according to the international system design principles to support more surgery and has plans to request CSSD certification in the international level within 2018 (Asia Pacific Society of Infection Control-APSIC) and the Hospital has pass the qualification and received an award in Danad, Vietnam in March 2019.
Sikarin Hospital focuses on the improvement of its medical services to achieve modernization and excellence by adhering to the international standard. It also prepares its entire staff by personal development programs in order for them to perform the appropriate services with the medical principles in mind for the highest benefit of the service users. The Hospital is branding itself as "Your Family Hospital" therefore clients should expect that they will be treated by all staff as brothers and sisters or as family members. The hospital is certified by HA (Hospital Accreditation) and JCI (Joint Commission International) as per history below;
Certified with JCI for the entire system on 24 November 2012.
Re-accredit for the 1st time on 31 October 2015.
Certified with JCI for the Primary Stroke Program on 26 November 2014.
Certified with JCI for the Diabetes Mellitus Program on 28 November 2015.
Certified with HA from The Healthcare Accreditation Institute ( Public Organization) on 27 July 2005.
Re-accredit for the 1st time on 6 March 2009.
Re-accredit for the 2nd time on 31 August 2012.
Certified with JCI for the Acute Myocardial Infarction (AMI) on 11 November 2016
Certified with CSSD (Center of Excellence by APSIC in 2018
Medical Services of Rattarin Hospital

Rattarin Hospital is located at Sukhumvit Road, Km.34 with the total bed capacity of 100 beds and it is situated 16 kilometers away from Sikarin Hospital took approximately 25-30 minute to travel between the two hospitals. Both hospitals are well equipped and its managements are mutually related allowing sharing of essential resources for the greater benefit of the service uses of both hospital.

With the hospital location that close to Bangpoo Industrial state, Rattarin focusing on providing a medical services to Social Security's Patient. There is a rapid expansion around Bangpoo Mai area, new shopping mall opening up, and more real estate and condominium around the area. Hence, Rattarin Hospital has adjusted their customer target to not only social security patient but also other general patient and insurance's patient who lived around the area.

Rattarin Hospital has 10 diagnosis and emergency rooms. There are totally 60 beds for inpatients. Rattarin Hospital is certified with the quality management through ISO 9001 accreditation and HA, level 2, accreditation. There are 111 doctors and medical staffs.

Other Special Services
Emergency and Trauma Center : Due to the location of Rattarin Hospital that is located on the main road and quite far from other hospital, the patients that came for services from car accident are pretty high. Recently, Rattarin Hospital has check-up and emergency room with X-ray computer or CT scan, Fluroscopy and also have 2 surgical examination room and 2 Recovery room. Therefore, the patient can ensure that they will be treated safely.
Annual health check-up service : In addition, Rattarin Hospital located close to Bangpoo Industrial estate including Bang Pu Mai sub-district which are the location of many types of factories. The Hospital has arranged health check-up services before enter the jobs and annual health check for employees of various companies, both within the Hospital and onsite inspection.
In 2017, expended 2 dental examination rooms within the detail department.
In 2018, opened additional building near the Hospital to accommodate social security patients.
Medical Services of Sikarin Hatyai Hospital

Sikarin Hatyai Hospital Company Limited ("SKHY") operates a private hospital business with certification by the Joint Commission International (JCI ) with 120 beds in a 12-storey building that has a total area of 35,800 square meters and a helipad for emergency case. Currently, SKHY have maximum capacity of 700 outpatients per day. The Company is located at 169 Nipatsongkhroa 1 Road, Hat Yai Songkhla, 90110. The company's location is convenient for the patients in neighboring provinces such as Phatthalung, Satun, Pattani, Yala to access. The company operates 24 hours a day with over 200 specialized doctors and 13 clinics. Detail as follow;
| | |
| --- | --- |
| 1. Internal Medicine & Internal Medicine Specialist | 8. Orthopeadic Clinic |
| 2. Emergency and Trauma Center | 9. Check up center |
| 3. Woman Center | 10. Assisted Reproductive Technology Clinic |
| 4. Children Clinic | 11. Foot Clinic |
| 5. Eye ear throat nose center | 12. Physical Therapy and Rehabilitation center |
| 6. Eye Clinic | 13. Sr. Laboratory |
| 7. Dental Center | |
Over 19 years of experience, SKHY has improved the examination room, inpatient room, customer lounge, health screening center, operating room, ICU and the surrounding environments by setting up retail stores to facilitate the customers. SKHY received Joint Commission International Accredited (JCI) in 2015 due to the investment in medical equipments that are innovative and admitted by international standards for instance Microscope OPMI VISU 160, Dual Slice Spiral CT Scan, C-arm CT Scan, Fluoroscope, Digital Mammogram, Echo Carotid, Laparoscope and dialysis machine.
SKHY's customer can divide into 4 groups, which is:
Corporate Customer is the patient who works in the company that provides medical benefits, which that company will responsible according to the financial limit that agreed with the Hospital.
Insurance Customer is the patient that has insurance, and insurance company that sign contract with the company will be responsible for their expense.
General Customer is the patient that lives or work around the hospital, which customer will responsible for their own expenses.
Fund Customer means the customer that is the company or factory workers that got injured during their work. Which social security's office will responsible for all of the expense.
กลุ่มลูกค้าเป้าหมายของบริษัท มีดังนี้
ผู้ที่มีรายได้ปานกลาง – ปานกลางค่อนข้างสูง พักอาศัยอยู่ในย่าน บางนา อ่อนนุช ประเวศ และบางพลี ซึ่งกลุ่มนี้จะใช้บริการของโรงพยาบาลศิครินทร์ ใน 2 รูปแบบ

แบบผู้ป่วยทั่วไป ซึ่งผู้ป่วยจะรับผิดชอบต่อการชำระค่ารักษาพยาบาลเองโดยตรง โดยช่องทางนี้จะเป็นผู้ป่วยกลุ่มใหญ่ที่สุดของโรงพยาบาลศิครินทร์
แบบผู้ถือกรมธรรม์ประกันสุขภาพ ซึ่งในรูปแบบนี้บริษัทประกันชีวิต จะเป็นผู้รับผิดชอบค่ารักษาพยาบาลแทนผู้ป่วยตามขอบเขตของสัญญากรมธรรม์

บริษัทคู่สัญญาที่จัดสวัสดิการให้แก่พนักงานโดยตรง และไม่ใช้สิทธิประกันสังคม ซึ่งตั้งอยู่ในรัศมี 15-20 กิโลเมตร ตัวอย่างเช่น

บริษัท ซีพีเอฟ (ประเทศไทย) จำกัด (มหาชน) (บางนา)
บริษัท บางจากปิโตรเลียม จำกัด (มหาชน)
บริษัท ลินเด้ (ประเทศไทย) จำกัด
บริษัท อีซูซุ มอเตอร์ (ประเทศไทย) จำกัด
บริษัท สยามมิชลิน จำกัด
บริษัท ไทยแอโรว์ จำกัด
บริษัท โตโยต้า มอเตอร์ ประเทศไทย จำกัด
บริษัท ฮีโน่มอเตอร์สแมนูแฟคเจอริ่ง (ประเทศไทย) จำกัด
บริษัท เด็นโซ่ (ประเทศไทย) จำกัด
บริษัท โตโยต้า ไดฮัทสุ เอ็นจิเนียริ่งแอนด์แมนูแฟคเจอริ่ง จำกัด

ลูกค้ากลุ่มประกันสังคม ซึ่งเป็นผู้ที่พักอาศัย หรือมีสถานที่ทำงานในรัศมี 15-20 กิโลเมตร โดยรอบโรงพยาบาลด้วยโรงพยาบาลศิครินทร์ เป็นโรงพยาบาลขนาดกลาง ตั้งอยู่ย่านกรุงเทพตะวันออก ซึ่งเป็นย่านที่มีคู่แข่งในตลาดมากที่สุด ในเชิงกลยุทธ์แล้วโรงพยาบาลในกลุ่มนี้จะไม่เน้นแข่งขันด้านความล้ำหน้าของอุปกรณ์การแพทย์แต่จะแข่งขันด้านบริการและความคุ้มค่า (Value for Money) เป็นสำคัญ โดยเฉพาะอย่างยิ่งการสร้างความสัมพันธ์ที่ดีเลิศกับลูกค้าในย่านชุมชนของแต่ละโรงพยาบาล ทั้งระดับครอบครัวและระดับองค์กร เช่น โรงเรียน สถานประกอบการและโรงงานอุตสาหกรรมต่างๆ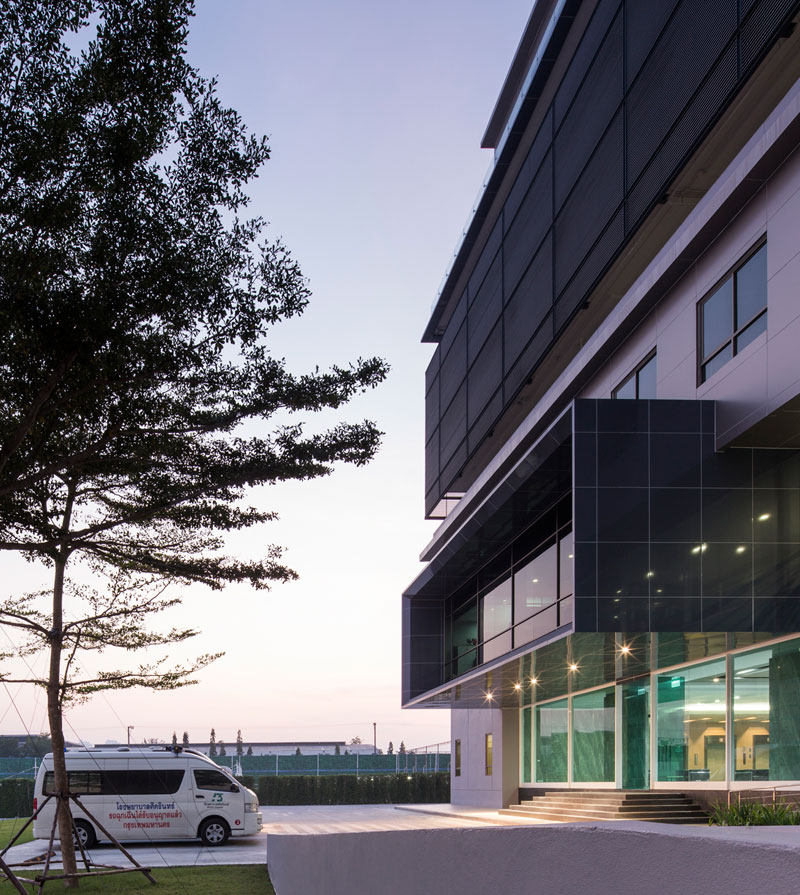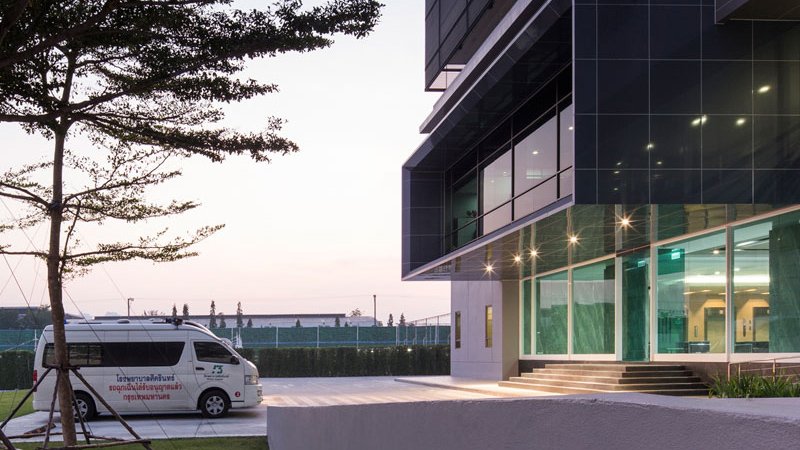 ลูกค้าเป้าหมายของโรงพยาบาลรัทรินทร์ แบ่งเป็นกลุ่มหลัก ดังนี้
ครอบครัวที่มีรายได้ระดับปานกลาง ซึ่งพักอาศัยอยู่ในเขตบางปูใหม่ คลองด่าน
กลุ่มบริษัทที่ตั้งอยู่ในนิคมอุตสาหกรรมบางปูหรือตั้งอยู่ในเขตบางปูใหม่ ซึ่งได้จัดสวัสดิการรักษาพยาบาลให้แก่พนักงาน ทั้งที่ดูแลค่ารักษาพยาบาลเองโดยตรง หรือมีบริษัทประกันดูแลสุขภาพพนักงานแทน
กลุ่มพนักงานที่ปฏิบัติงานอยู่ในโรงงานต่างๆ ในนิคมอุสาหกรรมบางปู หรือตั้งอยู่ในเขตบางปูใหม่ ซึ่งพนักงานกลุ่มนี้จะบริการรักษาพยาบาลตามสิทธิ์ของประกันสังคม